Special Therapies & Packages Mykonos Blu
FREE use of sauna
CHOCOLATE SYMPHONY 1 HOUR & 20 '/115 €
A unique nourishing, stress-reducing body treatment. Performed with chocolate to invigorate and revitalize you. Chocolate, an antidote for premature ageing, leaves your skin smooth and replenished.


LAP OF LUXURY SEA SCRUB 40'/70€
This sensorial experience will wrap your whole body into softness and silkiness. Enriched with essential oils, this pleasant care begins with a complete body scrub to get rid of dead cells and smooth the skin, and will gently end will with the application of a rich body milk to leave your skin luminous and velvety. Skin is renewed and more beautiful.


PAYOT BODY AND FACE HARMONY 1 HOUR & 20 '/140€
This wonderful harmonizing treatment gently sloughs off dead cells from the skin's surface allowing nutrients to penetrate deep into its layers, leaving skin soft, firm, supple, and silky to the touch. Start with body exfoliation with a wonderful combination of Fine Marine Mineral Crystals and a Semi-precious Balm to make the skin smooth and velvety while relaxing body and mind. A special body wrap follows with a smooth textured combination of Pink Mineral Clay rich in trace elements, semi-precious Rodochrosite Balm and Precious Oils. Applied over the entire body to release accumulated tension and provide a feeling of wellbeing and absolute serenity.
Special Packages
BRIDAL, 3 HRS/250€

10' Body Scrub
20' Body Mask
50' Aroma Massage
50' Facial Treatment
30' Manicure
TOTAL BODY RELAX, 2,5 HRS
230€

10' Body Scrub
20' Body Wrap
30' Relax Massage
20' Head & Face Massage
60' Facial Treatment
15' Eye Brow Shape
MEN'S GETAWAY, 2 HRS/160€

20' Body Scrub
50' Aroma Massage
40' Facial Treatment
Salon Treatments

MANICURE, 30'/35€
SHELLAC MANICURE 40'/45€
PEDICURE, 45'/50€
SHELLAC PEDICURE 50'/60€

Waxing Treatments

Upper lip, 10'/20€
Legs & Bikini & Underarms, 60'/65€
Legs & Bikini, 45'/50€
Lower Legs, 20'/30€
Underarms or Bikini or Lower Arm 15'/25€
Eye brown shaping, 15'/10€
Book Online
or Call +30 22890 27900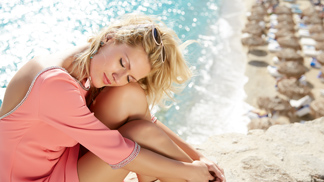 Combine your booking with a Spa therapy!
Book your room online and Save up to 30% on "Elixir of Life", "Marine Ritual" & "Age Antidote" treatment.
For more information please contact the Elixir Spa: +30 22890 27900 or email: reservations.mb@grecotel.com
---
Must Try
• ELIXIR OF LIFE: Restoring body energy, balancing body aura, revitalizing & improving skin firmness.
See more>
•
PAYOT BODY AND FACE HARMONY:
Allowing nutrients to penetrate deep into its layers, leaving skin soft, firm, supple, and silky to the touch.
See more>
---
Exclusive Face Treatment
Payot Deep Collagen
Ideal for all skin types, offers deep moisturizing that will leave your skin radiant.
See more>
---
In-Room Spa
Indulgent Experience
The Elixir Spa therapists can arrange massages, therapies and beauty treatments in the privacy of your villa or outdoors by your pool.
---
also check
Massages & Therapies Mykonos Blu